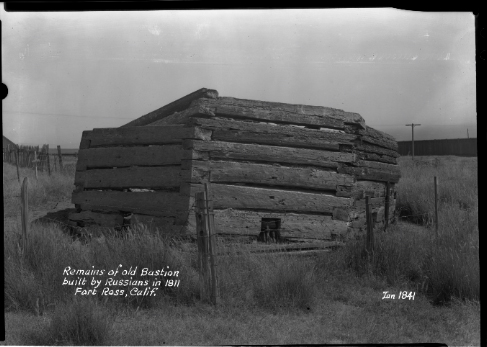 Remains of old Bastion built by the Russians in 1811, Fort Ross
Circa 1930
Zan No. 1841
5x7 Negative by Zan Stark
Photo Accession CV # 88-011-0004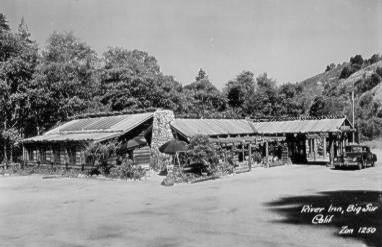 River Inn Big Sur
Zan No. 1250
Alexander J. "Zan" Stark, Postcard photographer
Alexander J. "Zan" Stark (4/10/1889- 3/17/1967)
He was born in Michigan moving to California in his early 20's. He first lived in San Francisco working under the name Xan Stark, Alta Studios at 1271 Mission Street and moving to Mill Valley in the mid 1920's
Zan Stark was a postcard photographer from his studio at 324 Miller Avenue in Mill Valley in Marin Co., California. He worked from the 1920's into the early 1950's under the name Zan of Tamalpais.
He was the official photographer of the Redwood Empire Association from 1936.
Zan photographed the California coast from Monterey Co., Big Sur, the Redwood Highway and most of Northern California and also up in to Oregon.
He also photographed in San Francisco, Sonoma County, Napa Co., Santa Cruz Co., Del Norte Co., Lake Tahoe, Donner Lake and over into Nevada and Utah.
He moved to Sonoma around 1952 and died on March 17th, 1967 in a Sonoma rest-home.

Holdings: over 879 postcards by Zan Stark and is an on going collection.
And over 8,300 Postcards and of that over 5,000 are realphoto postcards.
A view by Zan of Ocean Avenue in Carmel, Calif. Zan Gallery

California North Coast, Sonoma , Mendocino , Humboldt and Del Norte Counties.
Northern California , Sacramento, Mount Shasta,
Mount Lassen, Stockton.
Early Northern California and Southern California Photographers
and Monterey area photographers that made postcards
A good book on Real Photo Postcard Guide:
The People's Photography
By Robert Bogdan and Todd Weseloh Copyright©2006