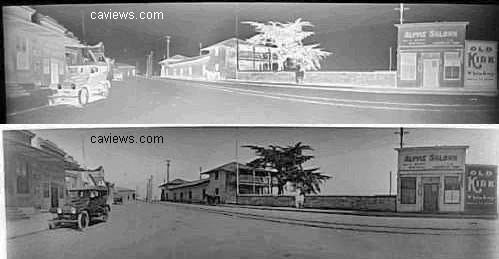 4x12 panoramic negative
Photographer Charles Z. Bailey
July 29, 1873-July 30, 1954
Photo Accession CV # 2001-150-0002
Looking down Calle Principal Street towards the Custom House with the Alpine Saloon,
G. R. Carpenter, prop.
Monterey, Circa 1915 by Charles Z. Bailey, 929 1/2 West 3ed, Los Angeles
The car is parked in front of Duarte & Bro. Fish Market.
Holdings:
Over 60 prints, California postcards and negatives of Monterey, Pacific Grove, Fort Ord, Watsonville , Circa 1926 and 11 panoramic negatives of the Panama Pacific International Exposition of 1915 in San Francisco.
Holdings: over 22,732 Photos of Monterey County listed in our database.
And over 81,955 historical California images in our Photo Archives.