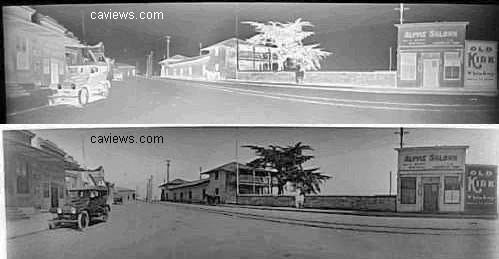 4x12 panoramic film negative
Photographer Charles Z. Bailey
July 29, 1873-July 30, 1954
Photo Accession CV # 2001-150-0002
Looking North down Calle Principal Street towards the Custom House with the Alpine Saloon, at 119 Alvarado Street, Monterey
Guy Ransom "G. R." Carpenter, prop.
Monterey, Circa 1915 by Charles Z. Bailey,
929 1/2 West 3ed, Los Angeles
The car is parked in front of Duarte & Bro. Fish Market.
Holdings:
Over 60 prints, California postcards and negatives of Monterey, Pacific Grove, Fort Ord, Watsonville , Circa 1926 and 11 panoramic film negatives of the Panama Pacific International Exposition of 1915 in San Francisco.
Holdings: over 28,000 Photos of Monterey County listed in our database.
And over 81,955 historical California images in our Photo Archives.