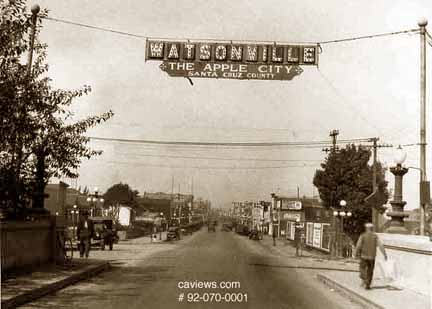 We have over 35,000 historical California images listed in our database and can provide a computer generated list by subject, place, date, photographer and format or any combination of the above for a small fee.


Holdings: over 28,000 Photos of Monterey County listed in our database.
Watsonville, California
Photo Accession CV # 92-070-0001
8x10 print
by Charles Z. Bailey , photographer (July 29, 1873-July 30, 1954)
Circa 1926

Named after Judge John H. Watson and is located in the Pajaro Valley on the Pajaro River.
Main Street in Watsonville Flooded on Feb. 12, of 1932
Watsonville is the second largest city in Santa Cruz County, and is known as The Apple City for the one time apple orchards that filled the Pajaro Valley.
Watsonville Bridge, over the Pajaro River 1915 and the Bank of Watsonville.
Watsonville is 20 miles southeast of Santa Cruz.
And North of Moss Landing on the Monterey Bay.
U.S. Navy submarine Carp F-1 (SS-20),on the beach at Port Watsonville, October 11, 1912

Holdings: Over 125 images of Watsonville and 764 of Santa Cruz County.
By C.W.J. Johnson (1833-1903)
Albert W. Fell (1852-1931)
Edgar L. Clark (1863-1944)
James Meddaugh (1861-1926)
Ossian Hagman (1870-1937) and others.
Early automobiles photo gallery.