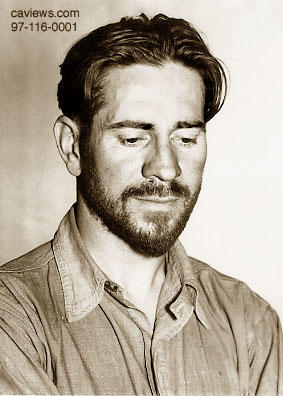 Photo accession CV # 97-116-0001
Photo by Bryant Fitch
October 1939
4x5&quot copy negative from an original print
Copyright© 1997 California Views

Dr. Phillips in The Snake 1935
Doc Burton In Dubious Battle 1936
Slim in Of Mice and Men 1937
Casy in The Grapes of Wrath 1939
Doctor Winters in The Moon is Down 1942
Doc in Cannery Row 1945
Friend Ed in Burning Bright 1990
Dr. Edward's in East of Eden 1952
Doc in Sweet Thursday 1954

Edward Flanders Robb Ricketts
May 14,1897 - May 11, 1948
Edward was born to Charles Abbott and Alice Beverly Flanders Ricketts in Chicago, Illinois.
Ed had a sister, Frances, and a younger brother Thayer.
His early days were spent in Chicago and Mitchell, South Dakota for a year, then back to Chicago.
He graduated from John Marshall High School in Chicago in 1914.
Ed was in the Army from November 1918 to March 1919. Later that same year he started his studies in zoology at the University of Chicago under Dr. Warder Clyde Allee.
On September 19th of 1922 he married Nancy Anna Macker in Chicago.
In 1923 he and Albert E. Galigher (1901-1960) opened Pacific Biological Laboratories at 165 Fountain Avenue in Pacific Grove, California Ed and Anna had three children: Ed Jr. was born in Chicago; Nancy Jane and Cornelia Frances were born in Pacific Grove.
Then he moved PBL to 740 Ocean View Avenue which was later renumbered to 800 Ocean View from 1928 to 1948.
Ricketts and Steinbeck first met in the home of Jack Calvin of Carmel in late October of 1930.
The story of their meeting in a dentist's office is possibly based on fact as they both had the same dentist in Pacific Grove.

In 1939 Ricketts and Jack Calvin (1901-1985) and line drawings by Ritchie Lovejoy (1908-1956) Between Pacific Tides was published by Stanford University Press and it is still in print 80 years later.

We have many photos of the Monterey purse-seiner Western Flyer that Ricketts and Steinbeck went to the Sea of Cortez on in 1940.
And photos of other purse seiners from the Monterey fishing fleet.
Ricketts's first appears as Dr. Phillips in Steinbeck's short story The Snake first published in the Monterey Beacon on June 22nd, 1935.
He may be best known as the inspiration for the character "Doc" in John Steinbeck's Cannery Row, 1945 you can find the persona of Ed Ricketts in a number of Steinbeck's books.
Hopkins Marine Station is a short walk into Pacific Grove from Pacific Biological Laboratories.

Holdings: We have over 85 photos of Edward Ricketts taken by his son Ed Jr. and other photographers as well as views of the original Cannery Row Pacific Biological Laboratories and the fire that destroyed it on November 25 of 1936.

Holdings: We have over 5,000 Monterey and 28,000 photos of Monterey County listed in our database.
We have photos of the new wooden building built in 1937 that still stands today at 800 Cannery Row, almost next to the Monterey Bay Aquarium.
Monterey Fishing industry early photo Gallery.