Alvarado Street - Monterey 1887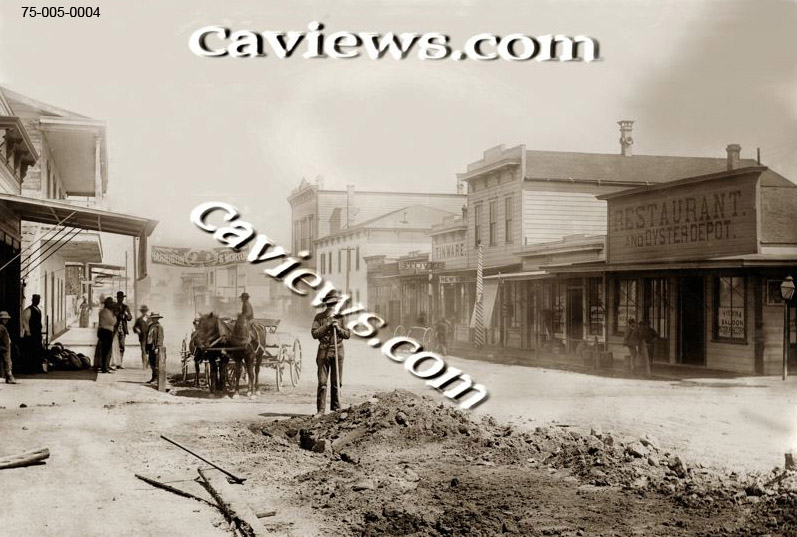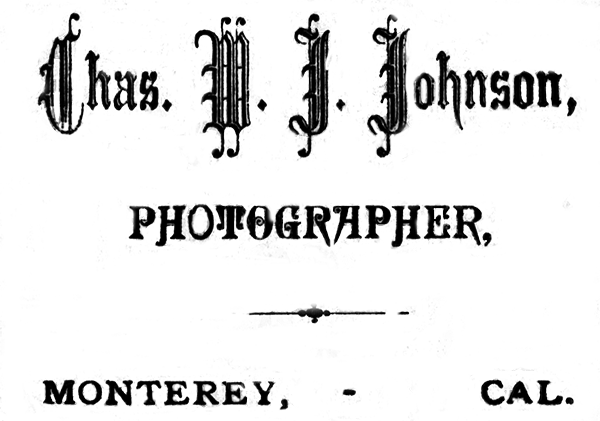 To see Alvarado Street looking the other way move your mouse over the photo.
Photo Accession CV # 75-005-0004, 5x8 print
Photo Accession CV # 96-050-0007, 5x8 glass negative
Looking southeast towards Ingram Bros, Washington Market, Del Monte Restaurant and at the very end of the street is A.A. Manuel groceries, fruits and liquors at the end of Alvarado Street at Pearl Street.


Looking northeast towards the Rodriguez Adobe a two-story adobe with an overhanging balcony
Vienna Saloon restaurant and Oyster Depot.
The banner is for the Harrison and Morton Presidential campaign of 1888.
Those views by C.W.J. Johnson of Alvarado Street, were taken at the Franklin Street intersection. Notice the man with the shovel he is Joseph Wolter proprietor of Vienna Saloon in the other photo the pile of dirt and shovel on the ground.
Johnson took both photos at the same time looking in opposite directions.
We have views of most of the early Monterey adobes from Colton Hall, Custom House, Jack Swan First Theatre, Old Whaling Station, Larkin House, Casa Amesti, Cooper-Molera Adobe, Robert Louis Stevenson House, Casa Bonifacio, Casa Castro, Casa Pacheco, Casa Soberanes, Casa Del Oro Adobe, Casa Sanchez Adobe and the history of Monterey form the 1880's to today.

Monterey 1880's Historic photo collection.
Holdings: We have over 5,000 photos of Monterey and 28,000 photos of Monterey County listed in our database
and over 81,955 images in the photo collection.
Holdings: By C. W. J. Johnson over 711. We also have aerial photos of the Monterey Bay Area.
Monterey 19th Century Historic photo collection. Monterey 20th Century Historic photo collection.