Pacific Grove Retreat Gate, Circa 1881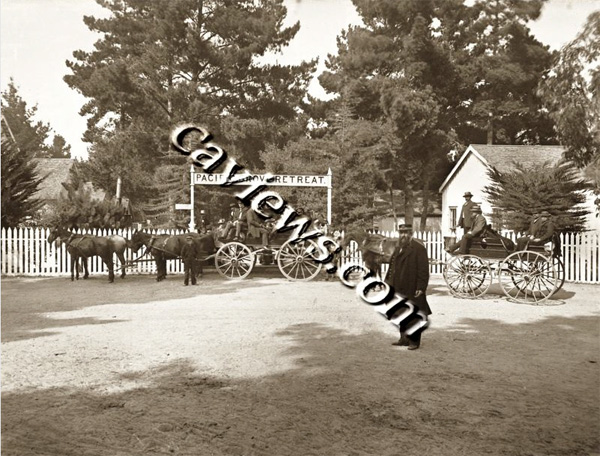 Photo by C. W. J. Johnson
Photo Accession CV # 78-006-0001
5x7" copy negative
Circa 1881
This view by Charles W. J. Johnson shows one of the two gates of Pacific Grove, California. The community that was founded as a Methodist retreat in 1875.
This gate stood at Lighthouse & Grand Avenues from 1875 to early 1887.
The man in the foreground is Joseph Oscar Johnson who was made superintendent of the Grove Retreat by the Pacific Improvement Company in 1881.
We have photographs of Lighthouse Avenue by C. K. Tuttle in 1901, Lovers Point Beach Beach, Japanese Tea House and Hopkins Marine Station on it in 1893. Also the Del Monte train and the Pacific Grove train station. And photographs from the early tent camp days, Japanese Tea Garden and Glass Bottom Boats to today.

Holdings: over 3,335 photos of Pacific Grove , Asilomar Conference Grounds, and the Point Pinos Lighthouse and a Aerial photo of
Pacific Grove on July 10, 1906 by George R. Lawrence in the photo collection. Some other photos of Pacific Grove and 19th Century and 20th Century Pacific Grove photos, Pacific Grove map collection.

We have over 28,000 photos of Monterey County in the archives.