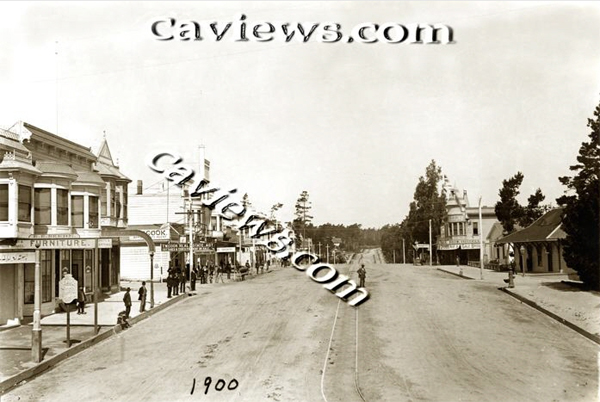 5" x8" Original print looking West on Lighthouse Avenue from Fountain Avenue.
Circa 1900
Photo by C. K. Tuttle
Original print a gift from Winnifred Tuttle Beaumont his daughter in 1973.
Visible in this photo are E. E. Beebe, Furniture store, C. K. Tuttle, Drug store, T. W. Cook, Real Estate office
Pacific Improvement office at left, Gale Brothers Grocery, with its distinctive corner turret
Photo Accession CV # 73-026-0016
The above view was stitched together from 4 prints
By Mr. Hathaway
Lighthouse Avenue
Pacific Grove, California
Pacific Grove's Lighthouse Avenue, looking west. This C.K. Tuttle original print looking down Lighthouse Avenue from Fountain Avenue towards Grand Avenue shows the town's oldest building block that still stands. B. A. Eardley, standing next to the Pacific Grove and Monterey street car tracks Eardley was one of the town's early figures, he can be seen next to the tracks. Tuttle's drug store (1887) (with the bay windows, second from end) can also be seen. Lighthouse Avenue derives its name from the fact that it leads to the Lighthouse at Point Pinos. 19th Century and 20th Century Pacific Grove.
Photos by C.K. Tuttle of the 1924 Oil Tanks Fire and photos of Asilomar by C.B. Clark.



Holdings: over 3,335 historical photos of Pacific Grove, Lovers Point Beach, California in our database.
Lovers Point, Feast of Lanterns, Pacific Grove photo gallery.