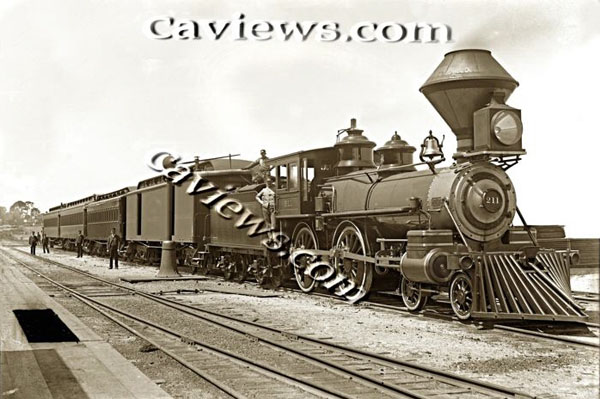 We have over 5,000 photos of Monterey and 28,000 photos of Monterey County listed in the collection database.
And over 81,955 historical California images in our Photo Archives.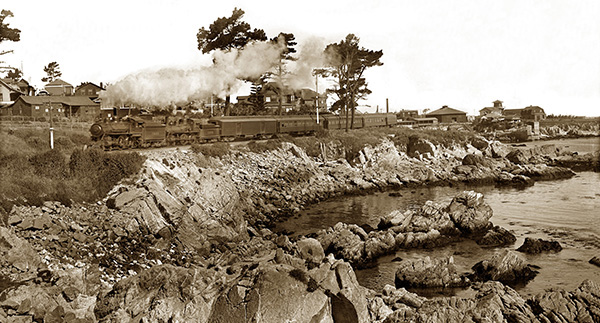 Del Monte passenger train Photo by C.B. Clarke circa 1910 5x7 glass neg.
Photo Accession CV No. 89-023-0033
Southern Pacific No. 211
Photo Accession CV # 72-008-0051
6x8 Glass negative
By C. K. Tuttle in April, 1891
This view by C. K. Tuttle of a passenger locomotive # 211 taking on water at the Pacific Grove station.
Southern Pacific purchased the Monterey & Salinas Valley narrow-gauge on Sept. 29, 1879 and built a broad-gauged main line from Castroville to Monterey.
This steam engine was built by Schenectady Locomotive Works in December of 1886 and was renumber to 1371 in 1891 and was scrapped on Jan. 5, 1918.
This 1906 Aerial view of Pacific Grove showing the Depot and turntable. The Pacific Grove depot shut its doors on September 16, 1957, and burned in July of 1962

The tracks were pulled up in 1983 and paved over for the bike Coastal Recreational trail.
And the Sand Train at the Sand Plant at the end of the line at Lake Majella and Spanish Bay.
In this photo in back of # 211 is probably the Del Monte Limited. The Del Monte ran from 1889 from San Francisco to the Del Monte Hotel, and Monterey and to the end of the line in Pacific Grove.
The last scheduled Del Monte passenger train left Monterey for San Francisco on April 30, 1971, this marked the end of an 82 year run.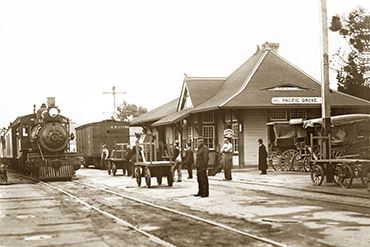 Pacific Grove Southern Pacific Depot Circa 1910
Photo Accession CV # 81-043-0002