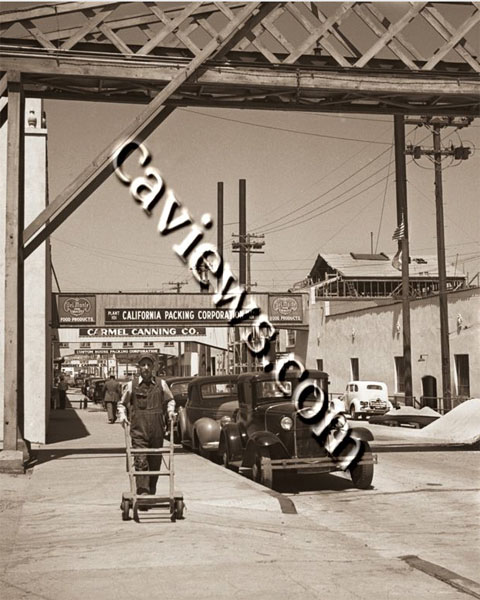 California Packing Corporation
Plant 101 Del Monte Foods
Photo Accession CV # 72-012-0053
Photo by George Seideneck
2 1/4" x 2 1/4" Negative
Early in 1945

A gallery of photo by George Seideneck

A Book by Michael K. Hemp with 124 historic photos
from the Pat Hathaway photo collection.

Cannery Row The History of Old Ocean View Avenue.
©1986,2003, 2011 and 2014
This book is available from California Views
for $ 24.95+$2.06 sales tax total $ 27.01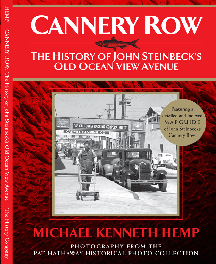 Michael K. Hemp and Pat Hathaway Photo Collection


Cannery Row, The New-Old,
by Pat Hathaway
Cannery Row from the 1960's to today.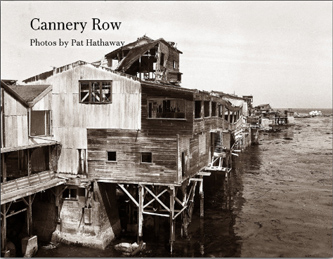 Photo by Pat Hathaway,© 1973

Cannery Row Historic Monterey
Cannery Row Pictorial Collection

This image may be the most-seen image of Cannery Row.
It was taken by photographer George Seideneck of Carmel. It was taken from a vantage point between Hoffman and McLellan Streets in Monterey looking northwest towards the Carmel Canning Co., Custom House Packing Corp. and Monterey Canning Co. It shows the California Packing Corporation plant 101 from in front of plant 106 that Ed Ricketts worked at part-time as a chemist, from 1943 until his death in 1948.
The cart-wielding cannery worker is Henry "Hank" Damewood.

We have photos of most of the Canneries from F. E. Booth, Carmel Canning Co., Del Vista Co., Pacific Fish, San Xavier Fish Packing Co., Peninsula Packing Co., San Carlos, Aeneas Sardine Packing Co., Oxnard Canning Co., Hovden Food Products Corp.

Fishing boats with names like, A. A. Ferrante, Adventure, American Eagle, City of Monterey. C.R. Martinolich, E.S. Lucido, Geraldine-Ann, U.S. Liberator, Lucky Boy, Mineo Bros, New Hope, New Marettimo, Star of Monterey, Pacific Star, Providenza, El Cerrito, Western Flyer, Western Maid, and Vitina A at one time fished in Monterey Bay.
Early Monterey Fishing industry photo gallery
We also have photos of the California Abalone Industry and the Japanese Abalone fishermen We have photos from the early feluccas, Lampara , half-ring and photos of other purse seiners from the Monterey fishing fleet.
We also have a number of photos of the fire that happend on Cannery Row.
Cannery Row Interiors views of packing tables, fish cutting and machinery.
Cannery Row was made famous by John Steinbeck by the publication of his book of the same name. Cannery Row in 1945.
Originally named Ocean View Avenue, it was renamed Cannery Row by the city of Monterey in 1958.
We also have aerials photos of Cannery Row and the Sardine fishing industries and Fisherman's Wharf.

California Views has over 1,000 cataloged photos of Cannery Row, and even more of the Monterey's early Sardine fishing fleet on which the canning and reduction industries relied for their supply of fish.

Holdings: over 28,000
Photos of Monterey County listed in our database.
And over 81,955 historical California images in our Photo Archives.

Ocean View Avenue AKA Cannery Row
Monterey City Directory 1939 & 1949
444 San Xavier Fish Packing Co.
507 California Packing Corp. Plant 101 Del Monte Foods
510 Cannel Canning Co. fish canners
540 Custom House Packing Corp. fish canners
570 California Packing Corp.
648 Cannery Workers Union No. 20305
651 Marina Apartments
652 Ocean View Hotel Wu M. C.
653 Jacinto Eleanor, Restaurant
654 Ocean View Cafe
702 Monterey Canning Co.
727 Del Mar Canning Corp. fish canners
756 Sun Harbor Packing Co.
799 Woods Flora Mrs., Restaurant
800 Pacific Biological Laboratories, E.F. Ricketts
807 Sea Pride Packing Corp. fish canners
818 Monterey Fish Products Co.
833 Wing Chong Co. General merchandise
Yee Yuck H. Restaurant
Hovden Food Products Corp.
Sardine fish cannery was the last one to close in 1972

We have over 35,000 historical California images listed in our database and can provide a computer generated list by subject, place, date, photographer and format or any combination of the above for a small fee.

A wonderful film now available on DVD by Filmmaker Eva Lothar
filmed in the late 1960's this documentary evokes a felling of the by gone day of Cannery Row.
In the early 1990's Harry Reasoner aired parts of it on CBS T.V. 60 minutes.
Monterey's Fishing Fleet from the 1930's through the 1960's