Ocean Avenue Carmel, Calif., Street Scene 1990
Carmel pictorial collection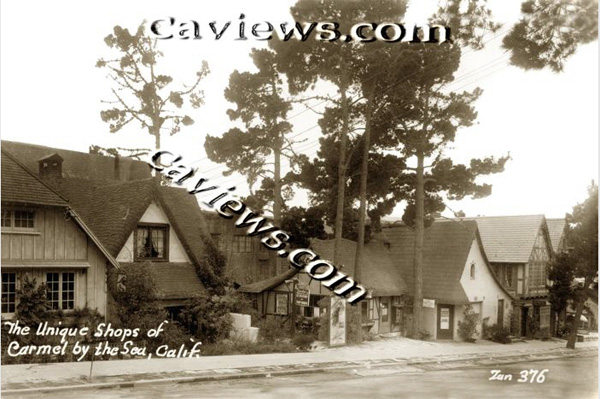 Photo Accession CV #93-008-0093
Real photo postcard, Stark, # 376 Circa 1990

Holdings: For Carmel over 2,105 and over 3,650 photos of the Carmel area including Carmel Valley, Carmel Highlands, Point Lobos and California Beach Scenes


Holdings: over 28,000 Photos of Monterey County listed in our database.
And over 81,955 historical California images in our Photo Archives.

Images by Zan over 875

Early automobiles photo gallery.
Zan Stark, of Mill Valley, took this photo for a real photo postcard of the south side of Ocean Avenue in Carmel, California. We have over 868 postcards by Zan Stark and over 3,445 photographs of Carmel 1880-1929 and Carmel Valley in the photo collection.
We have a large number of Carmel buildings from the Tuck Box too the Carmel Bath House on Carmel Beach, Pine Inn Hotel, La Playa Hotel, Golden Bough Theater, The Grace Deere Velie Clinic, Sunset School, Carmel High School, Bay School, Forest Theater and the old Carmel Theater that was on Ocean Avenue.
And also photos of George Sterling, Jack London, Mary Austin, Sinclair Lewis, Lincoln Steffens, Helen Cooke, Dolores Curtis, Robinson Jeffers and his wife, Una and family at Tor House in 1929, Ruth Kuster, Dr. Daniel MacDougal of the Carnegie Institute, August Gus Englund Carmel first police chief and Francis Whitaker.

We also have a large holdings by L.S. Slevin and Lewis Josselyn of photos of early Carmel and environs.

Carmel River Beach and Carmel's first golf course that was on Carmel Point and California artists.
And the Carmel Highlands just south of Carmel on California Coast Highway One.
Map of Carmel City in April 1888 by W. C. Little.
Some early maps of the Carmel area. Aerial photos of the Carmel area.