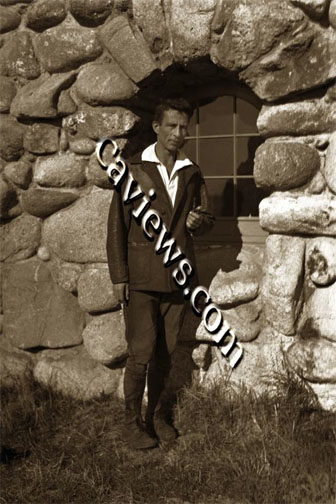 Robinson Jeffers at Tor House
Photo Accession CV # 71-001-0802
Lewis Josselyn Photo
Dec. 1925
5x7 Negative
Robinson Jeffers,
Carmel poet
Robinson Jeffers, California poet
(Jan. 10, 1887-Jan. 20, 1962)


He and Una came to Carmel in 1914 and rented a log cabin at the corner of Monte Verde and Fourth Avenue.
In 1919 they bought land on Carmel Point and begin construction on Tor House in August of that year.
Robinson, Una and the twin boys, Garth and Donnan in 1935.
We also have photos of Jack London, George Sterling, Mary Austin and Jimmy Harper and the Seacoast of Bohemia, Early Photos of Carmel 1880-1929
Early Bohemian Grove, Monte Rio, Sonoma County CA

Holdings: Photos of early Carmel and over 28,000 of Monterey County listed in our database and over 81,955 total in the collection.
Aerial photos of the Carmel and Carmel Point area.