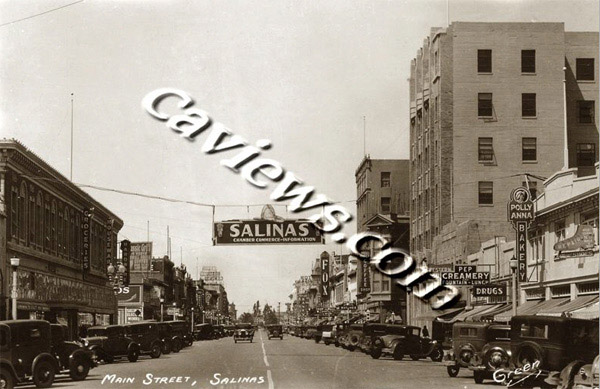 Main Street, Salinas
Green Photo
Photo Accession CV # 88-015-0001
3x5 Real photo postcard
Circa 1929

We have over 748 photos of Salinas and the Salinas Valley in the photo collection.
Main Street - Historic Salinas Street, 1929
This view by Claude C. Green of Salinas Main Street at the Alisal intrtsets and was taken looking North on the 300 block of Main Street. Note Salinas Chamber of Commerce and Salinas Rodeo signs.
Polly Anna Bakery, Pep Creamery, Western Supply, Jeffery Hotel, Fox Theatre.


We also have photos of Spreckels, Paraiso Hot Springs, Gonzales, Soledad, Greenfield, King City and other Salinas Valley towns.
John Steinbeck was born in Salinas on February 27th of 1902.

Salinas after the 1906 Earthquake
California Agriculture Collection photo collection
Salinas Valley photo page
Salinas 1940+

Movies filmed in Monterey County


We have over 28,000 photos of Monterey County.