Secret Beach, Point Lobos, Monterey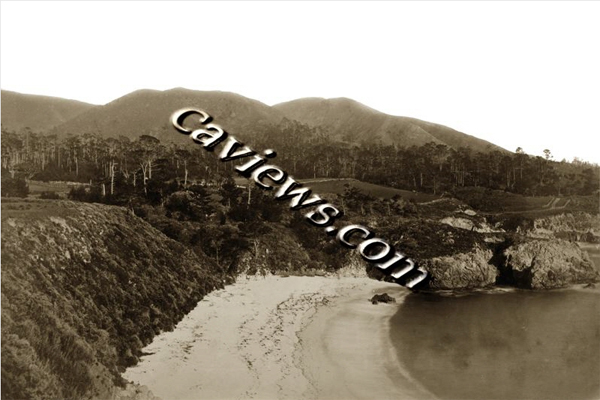 Carmel Mountains from Secret Beach, Point Lobos, Monterey,
Now known as Gibson Beach
Photo Accession CV #2001-151-0001
5x8" original Albumen print
By C.E. Watkins B 163, photo Circa 1887 Watkins' New Boudoir Series

Point Lobos, just three miles south of Carmel on the California's central coast en-route to Big Sur,
is in the words of local landscape artists Francis McComas the "greatest meeting of land and water in the world."
It has been the inspiration to many artists, most notably 20th century photographers Edward Weston and Ansel Adams, and 19th century photographers C.E. Watkins, I. W. Taber and C.W.J. Johnson. It has also been the inspiration for many writers, including Robert Louis Stevenson, Robinson Jeffers, John Steinbeck and Edward F. Ricketts.
Point Lobos is rich in natural and cultural history. It was home to Chinese fishermen, Portuguese whalers, Japanese Abalone fishermen and an Abalone cannery at Whalers Cove.
Point Lobos had its own "dog hole" landing in the 1890's at Coal Chute Point on Whalers Cove.
Point Lobos has been the setting for a number of Hollywood films going back to 1914. In 1922 Universal Pictures made "Foolish Wives," written and directed by Erich von Stroheim, who also starred in it. In 1929 the movie "Evangeline" directed by Edwin Carewe was also filmed there.