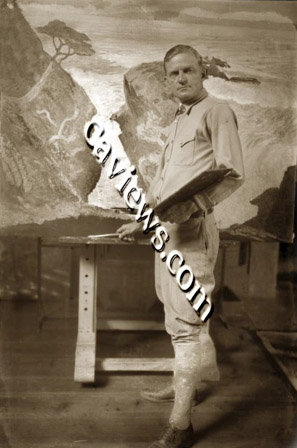 Artist Ferdinand Burgdorff
at the easel
(1881-1975)
Carmel, California
Lewis Josselyn Photo
5x7 Film Neg.
Photo Accession CV # 70-007-0023
We have photos of Sketch Club in the sand dunes near the Point Pinos Lighthouse,
Pacific Grove in 1888.
And the Hotel Del Monte click Art Gallery that opened in 1907 it was the first gallery on the Monterey Peninsula.
We have a number of photos of early California Artist:

Rowena Meeks Abdy (1887-1945)
William Constable Adam, American artists (1846-1931)
Laura Adams Armer (1874-1963)
Josephine Blanch (1864-1951)
Chesley Bonestell (1888-1986)
Lester Boronda (1886-1953)
Ferdinand Burgdorff (1881-1975)
Jennie Vennerstrom Cannon (1869-1949)
William H. Creed (1880-1934)
John Cunningham (1904-2004)
Charles J. Dickman (1863-1943)
Barclay Ferguson (1924-1991)
W. K. Fisher (1878-1957)
E. Charlton Fortune (1885-1969)
Frances Hanique ( 1862-1930)
Armin Carl Hansen: (1886-1957)
Grace Carpenter Hudson (1865-1937)
William Keith (1838-1911)
Joseph Kurtz Oliver (1863-1943)
Xavier Martinez, Artist (1869-1943)
Henry Miller (1891-1990)
Frank M. Moore (1877-1967)
Joseph Jacinto "Jo" Mora (1876-1947)
John OShea (1876-1956)
William Ritschel (1864-1945)
Harry Dick Ross (1899-1989)
Catherine Comstock Seideneck (1885-1967)
George Joseph Seideneck (1885-1972)
Vaughn Shoemaker, cartoonist (1902-1991)
Jules Tavernier (1844-1889)
Tulita (Gertrude) Bennett Davis Westfall (1889 1962)

May we recommend for more information
Artists at continent's end: the Monterey Peninsula art colony, 1875-1907
By Scott A. Shields, Ph.D,
Crocker Art Museum

Historical Photos of Carmel 1880-1929 and California Beach Scenes
and early Bohemian Grove.
We have over 35,000 historical California images listed in our database and can provide a computer generated list by subject, place, date, photographer and format or any combination of the above for a small fee.
Holdings: over 28,000 Photos of Monterey County listed in our database.
We have the photo of Jules Simoneau and Jules Tavernier in front of the old jail in Monterey by C.W.J. Johnson circa 1880
And over 81,955 historical California images in our California Photo Archives.
A list of books, magazines and television programs that have used photos from the photo collection.