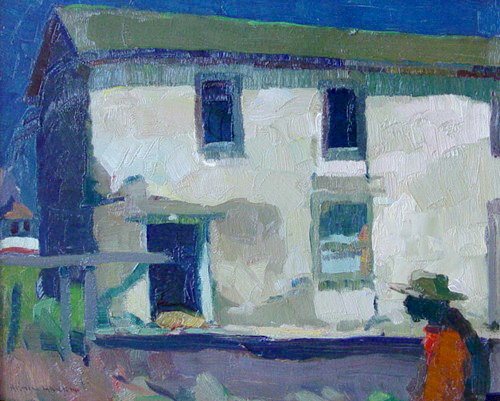 McKinley Adobe
on Corner of Pacific and Jefferson Street's, Monterey
This painting has often been misidentified as the
Stevenson House on Houston Street not faraway.
Circa 1912

May we recommend for more information
Armin Hansen: The Artful Voyage By Scott A. Shield PhD, 2015
Armin C. Hansen, Artist Monterey, California (1886-1957)
He was better known for his marine canvases and etching of the local fishermen and their boats and coastal scenes than Monterey adobes.

Armin Hansen was born on Oct. 23, 1886 in San Franciscan whose father Herman Wendelborg Hansen (1854-1924), a popular painter of Wild West scenes.
At age 17 he enrolled in the Mark Hopkins Institute to study under Arthur Matthews. When the San Francisco earthquake of April 18, 1906 interrupted his studies, Hansen left for Europe. Instead of going to Paris where most of his contemporaries were studying cutting edge art movements, he enrolled in the German Royal Academy, to work under the German impressionists. After two years of study and touring, Hansen signed on as a crew member of a Norwegian fishing trawler. He continued life as a fisherman in the North Sea and North Atlantic for the next four years. Returning to San Francisco in 1912, Hansen set up a studio and taught at U.C. Berkeley and the California School of Fine Arts for a short time.

In 1913 he moved to Monterey where he taught privately one of his early students was William H. Creed (1880-1934), and began to specialize in painting seascapes, coastal scenes and, most especially, images of the local fishermen with whom he felt a close kinship.
He kept a studio at 728 Montgomery in San Francisco also in June of 1915 he visited his friend Rowena Meeks Abdy in Sausalito with other artist.
Later in 1915 he took a trip on a riverboat up the Ohio River with his close friend's Rowena Meeks and her husband Harry Bennett Abdy of Monterey.

He first had a room/studio in the home of Wm. E. Parker at 716 Pacific Street until he built a house next door to fellow artist Julian Greenwell (1880-1960) at 762 El Dorado Street in ther early in the 1920.
He met his future wife Frances Rives (1890-1068) while teaching a summer art class in Monterey. The two married in 1922 and had a son, nicknamed Motje, which means little pal. Were he lived in Monterey until his death on April 23, 1957.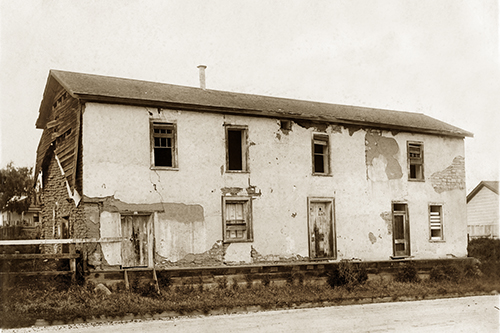 Old James McKinley Adobe
at 448 Pacific Street at Jefferson Street, Monterey
Circa 1910
Photo Accession CV # 2008-019-0408

The McKinley Adobe, a two story building on the Northwest corner of Pacific and Jefferson streets.
The Masonic Lodge Charter # 217 F&AM was held on June 28, 1871, Captain Thomas G. Lambert presiding and was held in this building.
In later years was the site of the Monterey Peninsula Herald and today is the McCone Building of Monterey Institute of International Studies.

Armin Carl Hansen in a small row boat on a Monterey beach
circa 1912
R. M. Abdy Collection
3x5 Film Negative
Photo Accession CV # 2012-018-0

Holdings: over 27,977 photos of Monterey County listed in our database.
Total number of images, in our database is over 35,000 total.

Monterey 19th Century Historic photo collection.
Monterey 20th Century Historic photo collection.