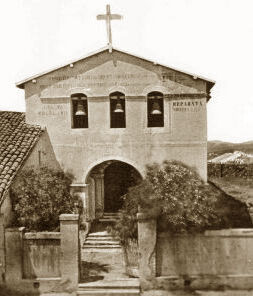 Photo Accession CV # 89-033-0283
Photo by C.E. Watkins
5x8 glass negative
Circa 1865

Mission San Luis Obispo de Tolosa, California 1865
San Luis Obispo Mission was founded by Fr. Serra on December 1, 1772. he stayed only one day before leaving for Carmel and then leaving the future of the mission in the hands of Father Jose Cavaller to ran the mission until he died in 1789.
The San Luis Obispo Mission was the 5th mission to be founded in the chain of 21 California Mission.
As Governor Gaspar de Portola and his men trudged northward in December of 1769 in their search for the Bay of Monterey, they were surprised at the great number of grizzly bears seen at the mouth of a small river, and in a coastal valley beyond, which was promptly named La Canada de los Osos the "Valley of the Bears". The abundant grizzly bear population which saved his party from starvation.
After secularization of the missions finally took hold in the 1830's, Capt. John Wilson purchased most of the Old Mission including its Laguna Rancho for $510.00 from the Mexican Government at an auction held in Los Angeles in 1845.
In 1859 what was left of San Luis Obispo mission was returned to the Catholic church. In 1868, the buildings were remodeled to resemble a parish church, including a New England-style wooden steeple, until 1934, when a fire burned most of the false additions. Restoration by Father John Harnett (1933-1939) and the late Sir Harry Downie of Carmel has brought back the original appearance.
Mission San Juan Bautista, Circa 1865 by Houseworth & Co. We also have photographs of San Luis Obispo and Morro Bay in the 1880's-1890's.



Holdings: over 100 photos of San Luis Obispo to see a small sampling of our San Luis Obispo, Atascadero, Cambria and Morro Bay collection and 76 images by C.E. Watkins.
R. R. R. Holmes Heliographic Artist of San Luis Obispo we hold three of his 5x8 Wet Plate glass negatives of the Chumash Native Americans rock art of Painted Rock at Cariso Plains circa 1876.
And also have a collection of California Native Americans photos.
And over 81,955 historical California images in our Photo Archives.