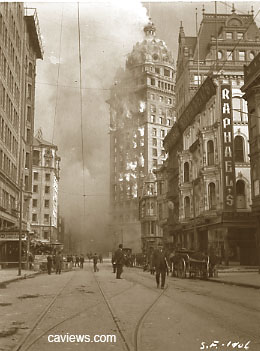 The burning Call Building
Photo Accession CV # 78-009-0003
4" x5" Original film negative
April 18, 1906
San Francisco Earthquake and Fire
This view is of the burning Call Building AKA Spreckels Building at Third and Market Streets in San Francisco.
It was taken looking down Kearney Street by an unknown photographer and also show the Hearst Building and Raphael's.
The fire in the Call Building started in an upper floor around 10:30 A.M.
The Call Building was built in 1898 by the Reid Brothers and was the tallest building in San Francisco at 12 story and 315 feet tall.
San Francisco view from twin Peaks, April 18, 1906, H.S. Hooper Photo
Johnson's Daguerreian Rooms, San Francisco - Circa 1853

Holdings: over 455 photos of 1906 earthquake and fire and the ruins of the city and aftermath. And photos of the damage at Stanford University, Palo Alto, San Jose and as far South as Salinas and at the Hotel Del Monte in Monterey.
Holdings: are over 1,968 photos of San Francisco from 1855-1990's.
We also have photos of the Cliff House, Sutro Baths, Playland, City Hall and Plaza by Thomas Houseworth , The Fairmont Hotel, The Ferry Building and some of the S.P. Ferry's, Fort Point, the Golden Gate Bridge and Bay Bridge under construction, the Panama Pacific International Exposition of 1915, the Golden Gate International Exposition of 1939.
Photos of damage coursed by the 1906 Earthquake to the Monterey Bay area.
We also have one photo from the October 21, 1868 Earthquake
San Francisco 20th Century photo gallery
Photos of the fire and smoke after the earthquake.
Early Hayes Valley, San Francisco Views by Runnels & Stateler, Circa 1885
San Francisco-Oakland Bay Bridge and Golden Gate Bridge photos.
We also have a early San Francisco Chinatown a photo gallery photo gallery.
A collection of 33 prints of early San Francisco Maritime History from the 1860's-1930's
We also have six 6.5x8.5 glass negatives by Howard Clinton Tibbitts (1863-1937) a view looking up Market Street.