Golden Gate Bridge on California Highway 101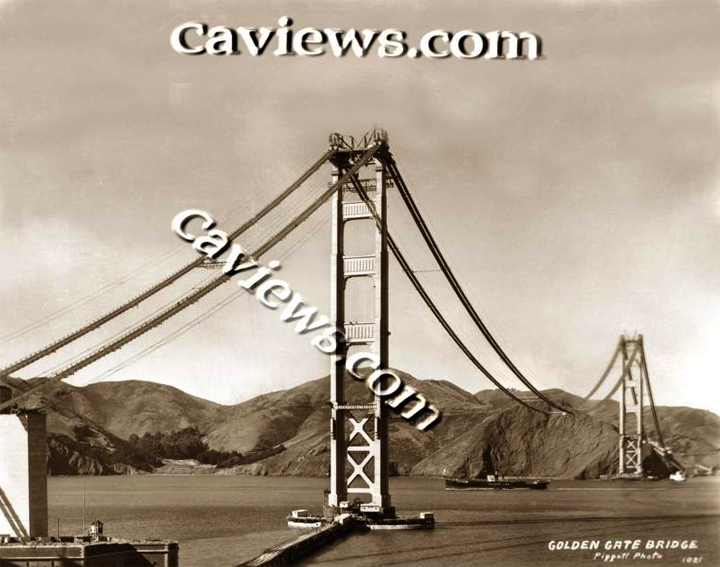 Looking north at the Golden Gate Bridge under construction with no roadway.
Photo by James K. Piggott Co., San Francisco May 1936
Photo Accession CV # 92-071-0001

Spanning the entrance of San Francisco Bay from Fort Point to the Marin Headlands a distance of 1.7 miles and its two towers soar 746 feet high.
Construction begins on January 5, 1933 and Bridge open to automobiles on May 28, 1937.
Golden Gate bridge builder Joseph B. Strauss chief engineer and his dream team of engineers, designers and was built by 10 different prime contractors.
The Golden Gate Bridge's paint color is called International Orange AKA Orange Vermilion.
It remains one of California's defining icon's.
The site was first called Chrysopylae, meaning Golden Gate, by U.S. Army Captain John C. Fremont in 1846.
May 27, 2012 was the 75th Anniversary of the Golden Gate Bridge.
We also have photos of the Point Bonita Lighthouse and photos before the bridge was built with Fort Point AKA Fort Winfield Scott.


The Western span of the San Francisco - Oakland Bay Bridge under construction March 2, 1935
Photo by Charles Mears Kurtz (1874-1966)

New and Old San Francisco-Oakland Bay Bridge October 9th, 2011
color Panorama by Pat Hathaway (7 images stitched together).
Holdings: over 2,278 photos of San Francisco.
We have over 35,000 Historical California images listed in our database and can provide a computer generated list by subject, place, date, photographer and format or any combination of the above for a small fee.
Holdings: over 28,000 Photos of Monterey County listed in our database. And over 81,955 historical California images in our California Photo Archives.