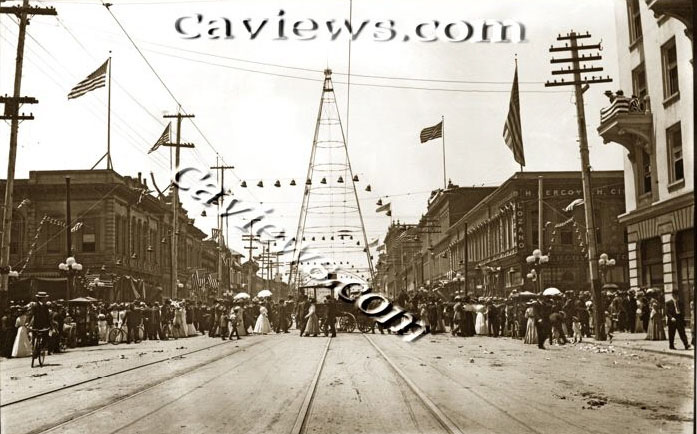 Looking West down Santa Clara Street, San Jose, Calif.
Photo Accession CV # 93-019-0001
5x7 film negative
By Henry J. Durgin, Photos Circa 1905


Holdings:
Over 200 negatives and photographs of San Jose
and over 477 photos of Santa Clara County.
And over 250 by Henry J. Durgin (1877-1959) of the Santa Clara Valley, Yosemite Valley and the Monterey Peninsula area.
San Jose Electric Light Tower, 1881-1915
San Jose pictorial collection


San Jose Electric Light Tower was constructed in 1881 by J. J. Owen, editor and publisher of the San Jose Daily Mercury and spanned the intersection of Market and Santa Clara Streets. It was 237 feet tall and weighted 15 tons. It was blown over in a big wind storm on December 13th of 1915.
This photo was used by Jack Douglas for the cover of his book Historical Footnotes of Santa Clara Valley, published in 1993 by the San Jose Historical Museum Association.
We also have photos of the old San Jose Post Office on Market Street, Plaza Park, Lick Observatory, The Henry Miller residence on Bloomfield farm, Alumn Rock Park and other views of and around Santa Clara County.