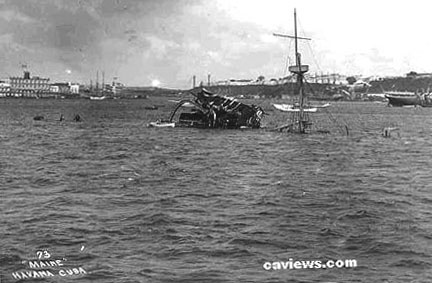 Photo Accession CV # 70-019-0004
5x7" Glass neg. # 73
Circa 1899

We have a collection of 66 5x7 glass plate negatives taken by an unknown photographer out of Camp McKenzie near Augusta, GA. of the U.S. fleet coming into Havana Harbor and the wreck of the battleship USS Maine she was sunk on February 15, 1898.
El Morro La Punta with battleship Indiana passing in to harbor.
Also so included in the collection are photos of the Battleships Texas, Indiana, Cruisers Brooklyn, Chicago, New York and Resolute and Hospital ship Missouri, the gun boat Vicksburg, Army Transport Logan, US Collier and Troop ship Lincoln in Miami, Florida.
Also views of the Coal and Lumber docks with a forest of masts in Havana Harbor.