Thomas Oliver Larkin (1802-1858)
Thomas Oliver Larkin was born in Charleston, Massachusetts, November 16, 1802 then lived in the Carolinas before coming to California in April of 1832.
He sailed out of Boston for the California coast by way of the Sandwich Islands.
Larkin went at once to Monterey, where he remained until after the conquest.
He had a shipboard romance with Mrs. Rachel Hobson Holmes arriving in San Francisco in April of 1833. She had became pregnant on the long trip and had the baby in Santa Barbara in January of 1833.
Larkins and Rachel lived with Latkins (half brother of John Rogers Cooper) at Cooper's home in Monterey.
As it seemed impossible at that time for a Protestant marriage to be celebrated ashore, they were married in June of 1833 on board an American vessel off of Santa Barbara. The baby Isabel died a month after here parents were married, she was buried at the Stant Barbara Mission.
During here pregnancy Rachel learned providentially that Captain Holmes had died and that she was a widow.
J. R. Cooper came to California as a Yankee merchant.
In 1834 T. O. Larkin began to build an adobe house, one of the first two-story homes in California at 510 Calle Principal at Jefferson Street in Monterey. In the same year he also opened his first store in Monterey. Larkins and Rachel had eight more children.
In 1843-46 he was the first and only U.S. Consul to Mexican Alta California and later along with General Vallejo, a financial backer of the new town of Benicia.
1845 President Polk appointed Larkin as his "confidential agent" to win the friendship of the Californians for the United States.
In a 1846 he had a pier built near the Custom House at Monterey for trading vessels bringing goods into California from around Cape Horn.



Holdings: We have over 5,000 Monterey and 28,000 photos of Monterey County listed in our database.
A gallery of some of our I.W. Taber photos
Holdings: 100 image by Taber

Monterey 19th Century Historic photo collection.
Monterey 20th Century Historic photo collection.
Photo Circa 1855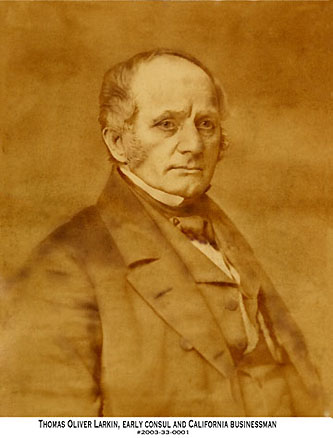 Photo Accession CV # 2003-033-0001
Copy by I. W. Taber
From a Cabinet Card.
Larkin was a shrewd business man who invested in San Francisco and Monterey as well to the detriment of Benicia according to Dr. Robert Semple. Larkin and Semple clashed almost from the beginning as Larkin targeted most of his energies to building businesses in San Francisco and Monterey instead of Benicia and was very little help to Semple.
Interestingly, it was Semple not Larkin who pulled out of Benicia first.
In October, 1849, Thomas O. Larkin served as a delegate to the Constitutional Convention.
In 1850 Larkin with his family went east for a 3 year long visit.
He returned to California and took up residence in San Francisco.
Larkin died on the evening of October 27, 1858 at his home in San Francisco at the time he was one of the richest men in California. He was buried at the Lone Mountain Cemetery.