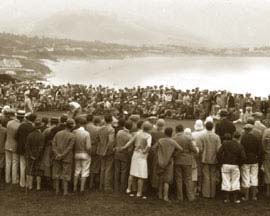 Early Golf at Pebble Beach, Monterey, California
U.S. Amateur at Pebble Beach
Photo Accession CV # 71-001-0801
5x7" negative
Sept. 21, 1929

This view by Lewis Josselyn shows Harrison Johnston at the 9th green during the 1929 U.S. Men's Amateur with large galleries at Pebble Beach. Over looking Carmel Beach and Carmel Bay. We have photos of Bobby Jones, Bing Crosby, Bob Hope, Sam Snead, Lawson Little, Ben Hogan, Jack Nicklaus, Phil Harris, Jack Lemmon to name just a few Pro-Am's that played Pebble Beach.