Monterey & California Maritime History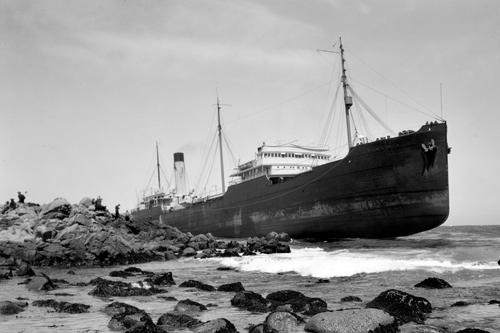 The Frank H. Buck was an oil tanker of the Associated Oil Company and was 427 feet long she went on the rocks at Point Pinos, Pacific Grove on May 3, 1924

She was re-floated on May 18, 1924
She rammed the S.S. President Coolidge under the Golden Gate Bridge on March 6, 1937
Went ashore near Mile Rock Light-station.
She met her end in the same spot that her as sister ship the Lyman Stewart, did on Oct. 7, 1922.
They were both built by the Union Iron Works of San Francisco in 1914.

Lewis Josselyn Photo 5x7 Film Negative,
Photo Accession CV # 71-001-0300
Holdings: over 28,000 Photos of Monterey County listed in our database.
And a total of over 81,955 in the photo collection



California Beach Scenes, passenger liners and Steam Schooners.
A collection of 33 prints of early San Francisco Maritime History from the 1860's-1930's
and U.S. Navy Ships
Monterey Bay and Pacific coast shipwrecks
Sail Boats Little Anne and Virginia Collision on San Francisco Bay, Circa 1886
The two masted lumber schooner Electra, grounded after the loss of her mooring on October 10, 1894
Saint Paul, Steam schooner, 1875, Point Joe, Pebble Beach, August 8, 1896
Gypsy, Steam schooner,1868,
New Monterey, September 27, 1905,
Celia, Steam Schooner, 1884, Point Joe, Pebble Beach, August 28, 1906
Rhoderick Dhu, Schooner, 1874, 1909, Moss Beach, Pacific Grove, April 26
Majestic, Steam Schooner, 1908, Big Sur, December 5, 1909
Steam Schooner Lakme waterlogged off Cape Blanco, Coos Bay Oregon, January 18, 1911
Wreck of The S. S. Santa Rosa, At Honda., Cal., July 7, 1911
USS Carp submarine named F-1 (SS-20) was washed ashore on the beach at Port Watsonville, October 11, 1912
USS Garfish USS H-3 (SS-30) Submarine, Built in 1914 - Stranded on rocks near Point Sur South of Monterey June 29, 1915
Shipwreck of Fifield Steam Schooner Bandon, Oregon February 21, 1916
Lyman Stewart, San Francisco on October 7, 1922
Seven U.S. Navy destroyers at Honda Point disaster September 8, 1923
Flavel, Steam schooner 1917, Pebble Beach, December 14, 1923,
The Frank H. Buck was an oil tanker of the Associated Oil Company and was 427 feet long she went on the rocks at Point Pinos, Pacific Grove on May 3, 1924
Salvaging The Shipwreck of the Coastal Freighter La Feliz , Santa Cruz, October 1, 1924
Cleone, on bird rock off of Cabrillo Point, Monterey Bay, October 29, 1925
Crescent City, Steam schooner, 1906, Santa Cruz, July 7, 1927
Rhine Maru, Freighter, Built in 1922, March 28, 1930, Big Sur
The wreck of the S.S. Sea Foam off of Point Arena in February 1931
William H. Smith, Monterey Beach, February 1933
Coast Guard 256, Cutter, , Pacific Grove, October 25, 1933
J. B. Stetson, Steam schooner, 1905 Pebble Beach, October 3, 1934,
Aurora, Four Masted Schooner 1901, January 18, 1935, Monterey
The S. S. Ohioan, a American-Hawaiian Steamship Company Cargo Ship October 8, 1936
Howard Olson, Lumber Schooner, off Point Sur , Big Sur, May 14, 1956
Ketch Le Bateau Shipwreck Pacific Grove, August 1969

Sailing Ships and Coastal schooners photo galleries.

Some of the other steam schooners that we have photos of are the Brooklyn, S.S. Capistrano, S.S. Carmel, Eureka, S.S. Daisy Gray, S.S. Del Norte, S. S. Eliabeth, S.S. Eureka, S.S. Firfield, S.S. Hanalei, William H. Murphy, S.S. Tamalpais, S.S. Lassen, S.S. Pomo and others.

Holdings: over 28,000 Photos of Monterey County listed in our database. And a total of over 81,955 in the photo collection
Ships of the California Coast.