Arthur C. Pillsbury was born on October 9th, 1870 in Medford, Massachustts.
Begins class at Stanford University majoring in Mechanical Engineering in 1893.
He had a photo studio and a Bicycle Shop in Palo Alto on the Circle and University Avenue in 1894.
Studio of the Three Arrows in Yosemite Valley bought from Eugene Hallet and Harold A. Taylor A.C. ran it from 1896 to 1928.
A.C. sold his Palo Alto Cyclery to Franklin L. Crandall in 1897.
When he went off to Alaska, Yukon in Skagway Pillsbury worked under the name Alaska View & Photo Co. in 1900
Later the Columbia Cyclery was owned by Fred Smith.
Was also near the J.C. Franklin Photo Studio/University Views.

He also worked for the San Francisco Examiner as a photojournalist from 1903 to March 1906 he started the Pillsbury Picture Company in March of 1906 at this time he lived at 1952 Union St.
Making 5 X 7 Graflex views and panoramas of San Franisco burning.
At that time he lived in Oakland and his house had a darkroom in it.
Pillsbury Picture Co. as a publisher of real photo postcards of Yosemite and Northern California.
A. C. also made Lantern Slide and Orotones (printed on glass and backed in gold) from some of his images.
He had studios at 219 Powell, San Francisco, 174 Geary St., San Francisco, 428 South Broadway, Los Angeles and Yosemite Valley, Mariposa County, CA.
He died on March 5, 1946 of heart failure in Oakland at the age of 75.



For more information on A.C. Pillsbury run by his granddaughter,
Melinda Pillsbury-Foster.


Early Southern California Photographers
Early Northern California Photographers
Some California photographers that made postcards.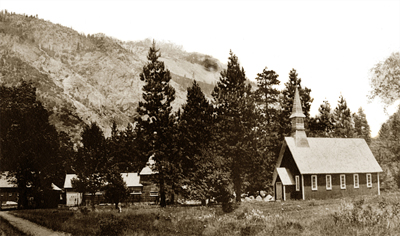 Studio of the Three Arrows and Yosemite Chapel in Yosemite Valley
Circa 1910 Photo Accession CV # 2007-018-0001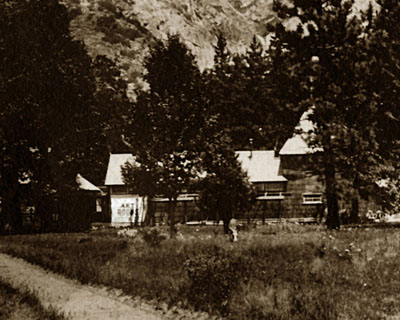 ART ROOM To see the full image Yosemite Valley
A list of ourA.C. Pillsbury holdings of over 100 images.
San Francisco Earthquake and Fire
California Missions
Monterey, Carmel, Pebble Beach
Lake Tahoe, Yosemite